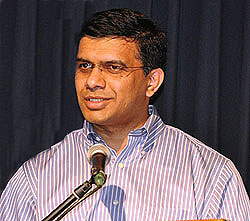 Entrepreneur and founder of successful technology startup based in Philadelphia, USA. Innovative technologist with over 25 years of proven leadership experience in e-Commerce, product development & enterprise solutions for global users.
Positive & Strategic Thinker, Visionary, Solution finder, People person, Team player, System Architect, Design & User Interface expert, Keen Observer, Comfortable managing in all directions – up, across and down; enjoy the process of turning nebulous ideas into reality, rapid prototyping, iterative development, hands-on, strong project management experience, good collaborator, excellent oral and written communication skills, Media, Web & Mobile Technology expert.
Professional Experience
CEO & CTO, MyVishwa Corporation North Wales, PA, USA
www.myvishwa.com
Conceived, architected, developed, implemented and successfully running operations of E-Commerce startups for last 10 years. Offices in USA, Australia and India.
Key Duties & Areas of Expertise:
Transforming Idea into Reality
Budget Development and Cost Control
Technical Architecture
Product Design and Development
User Experience
Contract Negotiations
Artificial Intelligence (AI)
Leadership and Supervision
Business Development
Marketing & Promotion
Achievement / Contribution Details
Mr. Joglekar is a "socially responsible" entrepreneur who requires the highest standards of ethical conduct in business and contributes resources and time to charitable organizations.
Invited guest at European Marathi Sammelan, Cardiff, UK to participate in panel discussion on "Is Maharashtra relevant for NRIs today?" - April 2012
Presented eBook Technology at World Book Fair organized by National Book Trust, India at Pragati Maidan, New Delhi - March 2012
Founding Member of Pune International Centre - September 2011
"Shiv Gaurav Puraskar - 2011" for making Indian Literature available globally through BookGanga.com - April 2011
Invited speaker at Maharashtra Chember of Commerce and Industries ( MACCIA ) - Global Maharashtra Conference, Aurangabad - Jan. 2011
Invited speaker at Grantha Mahotsav, Satara - Jan. 2011
Invited speaker at 84th Marathi Sahitya Sammelan, Thane - Dec. 2010
Developed and released iBookGanga - First eBook Reader Application for Indian Literature on iPad - Oct. 2010
Launched www.BookGanga.com - "Online Bookstore of Indian Literature" - Aug. 2010
Launched www.GlobalMarathi.com - "Vishwapeeth of the Marathi People, For the People, by the People" - May 2010.
Invited speaker at American Newspaper Association Conference, Florida - April 2010
Co-Convener of Brihan Maharashtra Mandal's (BMM) Convention 2009 at Philadelphia, USA.
Launched www.ePaperGallery.com - "Read News Paper As It Is" - Aug. 2008
Launched www.MyVishwa.com - Networking Platform - Aug. 2007
Executive Committee Member of Philadelphia Marathi Mandal during Year 2004-2007
Founding Core Team Member of 10 Days Philadelphia Ganesh Festival Year 2004 – 2010
Yoga and Prayer Teacher at Plymouth Balvihar. A Sunday school attended by around 200 Indian kids - Year 2005-2007. www.plymouthbalvihar.org
Organizing member in Fund Raising Programs for Tsunami, Gujarat and Maharashtra earthquake
Offering Seva at Bharatiya Temple, Montgomeryville, PA – Actively worked right from its foundation and helped in installing audio visual system, false ceiling, handy man work etc. http://www.b-temple.org/
Performing Priest services like Marriage, Munj, Vastu Shanti, Shri Satya Narayan Pooja etc..in local community using Jana Prabodhini scriptures. All the Dakshina goes to Charitable organizations in India.
Running Matrimonial website as a free community service since year 2005: www.MadhuMilan.com.
Developed and maintaining various other websites for FREE for Not-For-Profit organizations like Philadelphia Marathi Mandal, BMM Convention, Sangeet Society, Vidyarthi Sahayak Samiti etc.
Organizing music concerts, drama, cultural activities for past 10 years.
Core Team Member of Alumni Group – Vidyarthi Sahayak Samiti, Pune. http://www.samiti.org/ . Samiti helps students coming from low income family from rural area in Maharashtra.
Actively support Samavedana, Sahyadri Hospital Pune, Non Government Organization from Pune. http://www.samavedana.org/