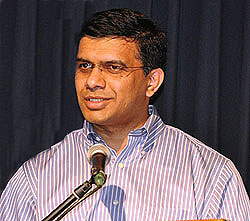 Entrepreneur and founder of successful technology startup based in Philadelphia, USA. Innovative technologist with over 25 years of proven leadership experience in e-Commerce, product development & enterprise solutions for global users.
Positive & Strategic Thinker, Visionary, Solution finder, People person, Team player, System Architect, Design & User Interface expert, Keen Observer, Comfortable managing in all directions – up, across and down; enjoy the process of turning nebulous ideas into reality, rapid prototyping, iterative development, hands-on, strong project management experience, good collaborator, excellent oral and written communication skills, Media, Web & Mobile Technology expert.
Professional Experience
CEO & CTO, MyVishwa Corporation North Wales, PA, USA
www.myvishwa.com
Conceived, architected, developed, implemented and successfully running operations of E-Commerce startups for last 10 years. Offices in USA, Australia and India.
Key Duties & Areas of Expertise:
Transforming Idea into Reality
Budget Development and Cost Control
Technical Architecture
Product Design and Development
User Experience
Contract Negotiations
Artificial Intelligence (AI)
Leadership and Supervision
Business Development
Marketing & Promotion
Projects for US Clients
Worked on various consulting projects for US based clients on various technology stack for last 20 years
AI, ML, NLP, RPA, Cloud, BOT, IoT
Technical architecture with product-oriented thinking
Positive, solution-finder & team player
Rapid prototyping and robust solution delivery on or before time
Reusable assets and value creation solutions for clients
Products
Different Products by MVML for Various Industry verticals like Media, Manufacturing, F&B, Pharma, Health Care, Legal
Event Manager – Keeping track for attendees
CMS – Publishing Software for Media – Print, Audio, Video
Expert Advice on Call – Time slot booking with prepayment
Health Diary – Keeping track of daily routine, diet, exercise, health documents & history
Helping Bridge – Platform to connect & coordinate requirements, volunteers, organizations, donors during relief operations
Hoarding Map – Location-based Billboards / Ad hoardings tracking on Google Map
WithinContacts - Product to manage individual network & groups. It helps to explore the potential strength of our own network. Features - messaging, events, buy-sell, services, jobs available within your own network
Media Monitor – BOTs monitors media based on keywords and context on predefined websites / blogs / open web and gathers unstructured data into structured formats and sends email and generate reports
FimoTimo – Pay per view movie / documentary rentals platform
Original Content Registry – Helps to post original content and keeps track of original content creator and content
Symple – Platform for Senior Citizens
Talk 2 CEO – Direct connect with CEO which helps to get candid feedback from customers and employees
Will You Rehire – Registry which maintains simple question – Will you rehire? – Anytime, Yes, May be, No ways – while will help potential hiring company to take well informed decision
Yard Sign List – Find local service providers who place yard signs in neighborhood community
Bytes of India
Challenge: Difficult to get positive news and hyper local information
Solution: Digital platform which publishes positive news, local information and publish writers' content
Technology: C#, NLP, ML, Web, iOS, Android, SQL
Kisan Abhimaan
Challenge: No single platform available to connect farmers directly with buyers
Solution: Developed platform in 11 Indian languages which connects Farmers, Customers, Wholesalers & Retailers on common digital platform. Buyer & Sellers contact information is easily available to each other which benefits everybody.
Technology: C#, NLP, ML, Web, iOS, Android, SQL
Home Minister
Challenge: Marketing & Publicity for local Small, Medium & Home-based business of women entrepreneurs
Solution: Developed business listing platform which helps to search local businesses and various services like catering, coaching, decoration, cakes etc…
Technology: C#, Web, iOS, Android, SQL
Tumacha Aamch Jamla
Challenge: Matrimony website provides just database search. No AI
Solution: Developed unique compatibility match questionnaire. Using AI algorithms suggest compatible matches. Predictive suggestions based on profile clicks and searches. 25M+ Active users
Technology: C#, Python, Data Mining, Web, iOS, Android, SQL, Photo Face Recognition and Background Check
Paani Foundation
Challenge: Coordination of ground level volunteer activities with center office
Solution: Developed platform & App to seamlessly coordinate project activities within all team members in distributed environment. Expense receipt scan on mobile – upload in App – Approval process brought efficiency & cost control
Technology: OCR, C#, Python, NLP, Web, iOS, Android
VerificationX.com
Challenge: Employee background verification for small and midsize companies (where verification is not yet a trend like in Software companies).
Solution: Developed platform & ground level network to do background verification like Address, Educational, Employment, Criminal, Medical etc. 300 + Companies using the VerificationX service
Technology: OCR, C#, Python, NLP, Web, Data Mining, Web scrapping, Email BOT, OCR BOT
BookGanga.com
Challenge: Print Marathi books not easily available locally & globally
Solution: Developed web platform and made available books by 1000 + Publishers, 1.5 Lacs Authors & 25 Million + Customers globally. BookGanga backend operations & frontend interface uses hyper automation for continuous improvement in author, publisher & customer service
Technology: OCR, C#, Python, ML, NLP, iOS, Android, Web, Data Mining, Web scrapping, Email BOT, OCR, Inventory Prediction, BOTs for Delivery Challan, Invoice, Payment, Customer Care
BookGanga.com - eBook & Audio Book App
Challenge: Marathi books not easily available locally & globally
Solution: Developed eBook & Audio Book App and Published Author / Publishers Content. System keeps track of individuals interest and suggests options by their favorite genre, author etc.
Technology: C#, NLP, iOS, Android, Web, Data Mining
Artwork Manager
Artwork Manager for Ad & Publishing Agencies
Challenge: Huge time spend between business & Ad agencies on Artwork approval process
Solution: Artwork Manager - Single point workflow solution which keeps track of original design requirements up to final approval of the design
Technology: C#, AI, NLP, Web, Mobile
Ad Monitor
Advertisement Monitoring Product for media companies
Challenge: To keep track & predict future revenue of Ads by brands towards media house & their competitors
Solution: Data mining of Ads allocation by various big brands in Print / TV / Online platform. AI model helps to analyze brands spend in the market and predicts future spend pattern
Technology: C#, AI, ML, Web, Mobile
Cyberspace Computers
Developed Billing Software Product for Boatclub, Poona Club, Hotel Blue Diamond and many other small & Big Hotels
Developed Account, Inventory, Production & Payroll Management Software Product and implemented it at around 50 small & big clients in Pune & Mumbai
Developed Software for Octroi Department
Kick Start
Started working in Chakan Oil Mill and developed Documentation Software for Export Departments like Bill of Landing / Proforma Invoice etc.
Developed Accounting Report Software using Gist Card by CDAC in Marathi & Arabic on top of Tally Accounting Software
Realized the need of Export Document Management & Accounting Software in the market – Started my own business - Cyberspace Computers
Achievement / Contribution Details
Mr. Joglekar is a "socially responsible" entrepreneur who requires the highest standards of ethical conduct in business and contributes resources and time to charitable organizations.
Invited guest at European Marathi Sammelan, Cardiff, UK to participate in panel discussion on "Is Maharashtra relevant for NRIs today?" - April 2012
Presented eBook Technology at World Book Fair organized by National Book Trust, India at Pragati Maidan, New Delhi - March 2012
Founding Member of Pune International Centre - September 2011
"Shiv Gaurav Puraskar - 2011" for making Indian Literature available globally through BookGanga.com - April 2011
Invited speaker at Maharashtra Chember of Commerce and Industries ( MACCIA ) - Global Maharashtra Conference, Aurangabad - Jan. 2011
Invited speaker at Grantha Mahotsav, Satara - Jan. 2011
Invited speaker at 84th Marathi Sahitya Sammelan, Thane - Dec. 2010
Developed and released iBookGanga - First eBook Reader Application for Indian Literature on iPad - Oct. 2010
Launched www.BookGanga.com - "Online Bookstore of Indian Literature" - Aug. 2010
Launched www.GlobalMarathi.com - "Vishwapeeth of the Marathi People, For the People, by the People" - May 2010.
Invited speaker at American Newspaper Association Conference, Florida - April 2010
Co-Convener of Brihan Maharashtra Mandal's (BMM) Convention 2009 at Philadelphia, USA.
Launched www.ePaperGallery.com - "Read News Paper As It Is" - Aug. 2008
Launched www.MyVishwa.com - Networking Platform - Aug. 2007
Executive Committee Member of Philadelphia Marathi Mandal during Year 2004-2007
Founding Core Team Member of 10 Days Philadelphia Ganesh Festival Year 2004 – 2010
Yoga and Prayer Teacher at Plymouth Balvihar. A Sunday school attended by around 200 Indian kids - Year 2005-2007. www.plymouthbalvihar.org
Organizing member in Fund Raising Programs for Tsunami, Gujarat and Maharashtra earthquake
Offering Seva at Bharatiya Temple, Montgomeryville, PA – Actively worked right from its foundation and helped in installing audio visual system, false ceiling, handy man work etc. http://www.b-temple.org/
Performing Priest services like Marriage, Munj, Vastu Shanti, Shri Satya Narayan Pooja etc..in local community using Jana Prabodhini scriptures. All the Dakshina goes to Charitable organizations in India.
Running Matrimonial website as a free community service since year 2005: www.MadhuMilan.com.
Developed and maintaining various other websites for FREE for Not-For-Profit organizations like Philadelphia Marathi Mandal, BMM Convention, Sangeet Society, Vidyarthi Sahayak Samiti etc.
Organizing music concerts, drama, cultural activities for past 10 years.
Core Team Member of Alumni Group – Vidyarthi Sahayak Samiti, Pune. http://www.samiti.org/ . Samiti helps students coming from low income family from rural area in Maharashtra.
Actively support Samavedana, Sahyadri Hospital Pune, Non Government Organization from Pune. http://www.samavedana.org/